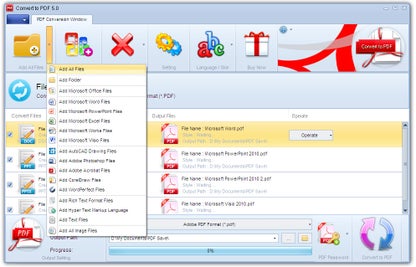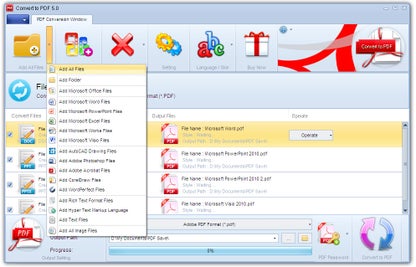 Convert to PDF puede convertir rápidamente cualquier archivo a formato pdf. Incluyendo Microsoft Word (DOC, DOCX), Microsoft Excel (XLS, XLSX), Microsoft PowerPoint (PPT, PPTX), Microsoft Visio (VSD), Microsoft Works (WDB, WPS, DOCX, XLSX), AutoCAD (DWG, DXF, DWF), CorelDraw (CDR), Corel Presentations (SHW), WordPerfect (WP5, WP6, WPD, WPF), WordStar (WS), DocuWorks (XDW), QuattroPro (WB1, WB2, WQ1), Rich Text Format (RTF), Text Format (Txt), Hyper Text Markup Language (Htm, Html), Windows Bitmap (BMP), JPEG Compressed Image (JPG, JPEG, JP2) etc. Formatos de archivo a PDF. Convert to PDF puede establecer una contraseña individual o para todos los PDFs. Convert to PDF es un software multilingüe, incluyendo inglés, chino, alemán, francés, italiano, japonés y una interfaz muy amigable y fácil de usar. Muy rápido en la velocidad de lectura y no se pierde la calidad.
Por
Abdio Software
Publicación
October 23, 2012
Versión
6.2
Sistemas operativos
Windows 2003, Windows 2000, Windows Vista, Windows 98, Windows Me, Windows, Windows Server 2008, Windows 7, Windows XP
Requisitos adicionales
None
¡Califica nuestro programa!
Total:

1

Promedio:

1